Buenos Aires Tetra
Details
https://www.petsmart.ca/fish/live-fish/goldfish-betta-and-more/buenos-aires-tetra-4032908.html
Discounted Price

$ 3.22
Old Price

$ 3.79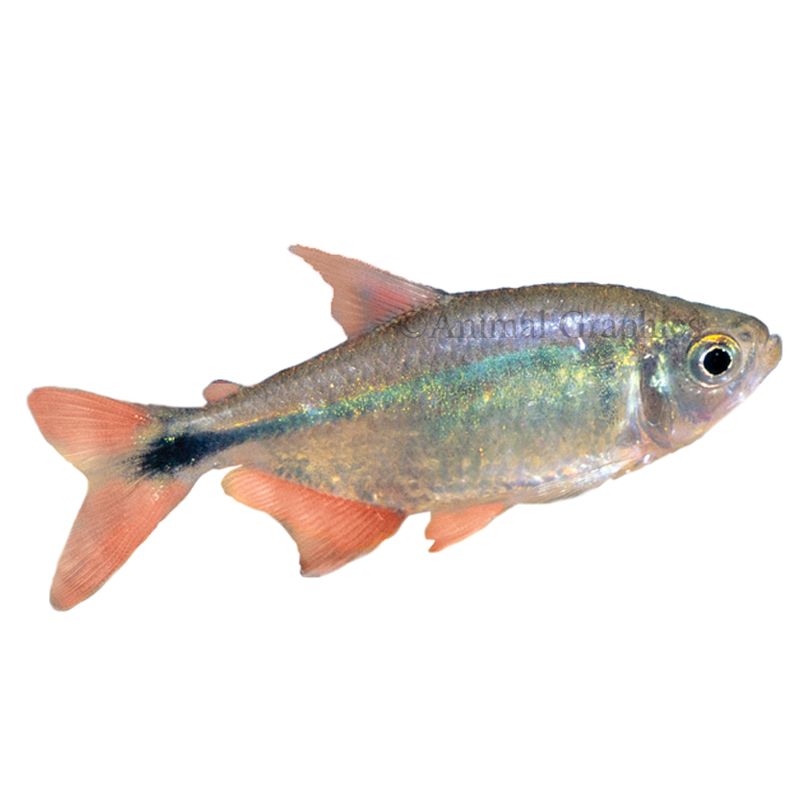 Variations
Please select a variation value to continue
Available only at select locations
not available for online purchase. please check availability at other stores.
product highlights
Diet: Flake, Frozen, Freeze-dried
Maximum size: 3"
Water temperature: 72-82&deg F
Swimming level: Middle
Schooling fish (5+)
Experience level: Beginner
Tank Setup: 10+ gallons, lightly planted
Great for beginner aquarists, tetras are attractive, hardy fish that come in a variety of colorations and patterns. Tetras are an active, peaceful, schooling fish that mix well with other community fish. They prefer to swim in schools of five or more. Tetras can share their aquarium with other community danios, rasboras, catfish and less aggressive barbs and gouramis.
Instead of plants, tetras eat aquatic crustaceans, worms and aquatic insect larvae. Vary their diet by including frozen or freeze-dried bloodworms, tubifex worms and other small worms, mosquito larvae and daphnia. You will see your tetras swimming in the middle of your aquarium. To create a beautiful environment, be sure to add some top and bottom swimmers as well. Ask a PetSmart associate to help you choose.
Learn about the Buenos Aires Tetra
Scientific Name
Hemigrammus caudovittatus
Family
Characidae
Feeding Habits
Fresh spinach, zucchini, lettuce and peas. Live blood worms, glass worms, brine shrimp and tubifex worms. Frozen vegetable diet, daphnia, plankton, beef heart, brine shrimp, glass worms and blood worms. Flake and freeze dried foods also accepted.
Compatibility
Peaceful and schooling with fish of the same size.
Habitat
Brazil: Moderately decorated with rocks, plastic plants and driftwood. Live plants will be eaten.
Breeding
Adult male's display the more colorful finage.
Additional Comments
Java Fern is a good live plant for Buenos Aires, as they do not like to eat this plant.
Vet Assured™ Promise
All pets purchased at PetSmart areraised under our exclusive Vet Assured program and come with a 14-day satisfaction guarantee. Vet Assured is a program designed by PetSmart veterinarians to improve the health and well-being of our pets. The program sets standards for the care of our pets by our live animal partners and store associates and establishes strict standards for the monitoring and prevention of common illnesses found in pets. PetSmart makes a significant investment in the care of our pets and it is apparent in the quality and comfort of the pets in our stores. However, if your pet becomes ill during this initial 14-day period, or if you're not satisfied with your pet for any reason, PetSmart will gladly replace the pet or refund the purchase price. Please keep your sales receipt and return the pet to the store where it was purchased if needed.
Note: Pet availability is seasonal. State and local regulations may vary. Pricing may vary by store location. PetSmart stores cannot match the price above for this pet. Ask a store associate for details.
<!--begin-bvseo-reviews--> <!--begin-reviews--> <div id="bvseo-reviewsSection"> <div class="bvseo-review" itemprop="review" itemscope itemtype="http://schema.org/Review" data-reviewid="29396440"> <meta itemprop="itemReviewed" content="Buenos Aires Tetra" /> <span itemprop="reviewRating" itemscope itemtype="http://schema.org/Rating"> Rated <span itemprop="ratingValue">5</span> out of <span itemprop="bestRating">5</span> </span> by <span itemprop="author">Happyhobo</span> from <span itemprop="name">WAT!?! IT ATE ONE OF MY NEON TETRAS!?!?!</span> <span itemprop="description">ok, well... when i put some neon tetras in my tank with these guys. one of the buenos aires literally chased another tetra until it finally caught it and ate it. So, now that i have agressive buenos aires, i've had to move them to my baby cichlid tank and they are doin much better there.</span> <div class="bvseo-pubdate">Date published: 2012-03-06</div> <meta itemprop="datePublished" content="2012-03-06" /> </div> <div class="bvseo-review" itemprop="review" itemscope itemtype="http://schema.org/Review" data-reviewid="125796552"> <meta itemprop="itemReviewed" content="Buenos Aires Tetra" /> <span itemprop="reviewRating" itemscope itemtype="http://schema.org/Rating"> Rated <span itemprop="ratingValue">3</span> out of <span itemprop="bestRating">5</span> </span> by <span itemprop="author">Amily</span> from <span itemprop="name">They eat and eat and eat. Plants beware.</span> <span itemprop="description">I bought 9 of these Buenos Aires Tetras but ended up having to take them back to the store after a week for fear that my other fish would never get any food if I added them to my community tank. Even when I fed them in 5+ rounds of flake, 3 times a day, they still destroyed all the plants in my quarantine tank in just a couple of days. I had no idea what I was getting into with these guys. They are beautiful to look at, though. I loved watching them swim around and hated to take them back, but they just wouldn't work in the planted community tank I wanted to add them to. It's a shame because I was really fond of them. Someday when I'm not in a small apartment, I will have to set up another tank so I can keep some of these guys and perhaps some other semi-aggressive fish. I just won't add any tasty live plants to that tank.</span> <div class="bvseo-pubdate">Date published: 2016-08-27</div> <meta itemprop="datePublished" content="2016-08-27" /> </div> <div class="bvseo-review" itemprop="review" itemscope itemtype="http://schema.org/Review" data-reviewid="82688867"> <meta itemprop="itemReviewed" content="Buenos Aires Tetra" /> <span itemprop="reviewRating" itemscope itemtype="http://schema.org/Rating"> Rated <span itemprop="ratingValue">3</span> out of <span itemprop="bestRating">5</span> </span> by <span itemprop="author">martinman52</span> from <span itemprop="name"></span> <span itemprop="description">These fish are quite pretty, but not all that peaceful. I have a group of 4 and they are fin nippers .... they pick out 1 or 2 fish and harass them constantly. Probably best kept with more aggressive fish.</span> <div class="bvseo-pubdate">Date published: 2015-07-12</div> <meta itemprop="datePublished" content="2015-07-12" /> </div> <div class="bvseo-review" itemprop="review" itemscope itemtype="http://schema.org/Review" data-reviewid="181793445"> <meta itemprop="itemReviewed" content="Buenos Aires Tetra" /> <span itemprop="reviewRating" itemscope itemtype="http://schema.org/Rating"> Rated <span itemprop="ratingValue">3</span> out of <span itemprop="bestRating">5</span> </span> by <span itemprop="author">tairdee</span> from <span itemprop="name">Definitely live long and very lively</span> <span itemprop="description">I&rsquo;ve had these fish for a few years now , still lovely as ever. My only complaint is they are definitely NOT friendly fish. Not even to each other. I had a few of them , I have two left. The two I do have left ate all the other ones. Even other fish as well. Seem to be fin biters as well. Not sure. Other than that great pet to have if you don&rsquo;t want any other kind of fish in the tank.</span> <div class="bvseo-pubdate">Date published: 2018-08-23</div> <meta itemprop="datePublished" content="2018-08-23" /> </div> <div class="bvseo-review" itemprop="review" itemscope itemtype="http://schema.org/Review" data-reviewid="12922310"> <meta itemprop="itemReviewed" content="Buenos Aires Tetra" /> <span itemprop="reviewRating" itemscope itemtype="http://schema.org/Rating"> Rated <span itemprop="ratingValue">4</span> out of <span itemprop="bestRating">5</span> </span> by <span itemprop="author">CSparks</span> from <span itemprop="name"></span> <span itemprop="description">I bought two of these along with some other tetras. They are lovely fish and interesting to watch when feeding. However Not even 30 minutes after releasing them in the tank, they were chasing my other fish around the tank and nipping the tails off anything they could catch. I returned them to the store.</span> <div class="bvseo-pubdate">Date published: 2010-08-07</div> <meta itemprop="datePublished" content="2010-08-07" /> </div> <div class="bvseo-review" itemprop="review" itemscope itemtype="http://schema.org/Review" data-reviewid="20225782"> <meta itemprop="itemReviewed" content="Buenos Aires Tetra" /> <span itemprop="reviewRating" itemscope itemtype="http://schema.org/Rating"> Rated <span itemprop="ratingValue">5</span> out of <span itemprop="bestRating">5</span> </span> by <span itemprop="author">ibndaisy</span> from <span itemprop="name">cool fish</span> <span itemprop="description">I bought 3 Buenos Aires tetras a few months ago. The first few days that they were in my tank they were quite aggressive and chased my other tetras around the tank. After a while though, they settled down and behaved themselves. They still can be aggressive at times, but mostly take it out on eachother rather than my other fish. I like the fact that they are a bit larger and they have a very pretty silvery color. They are also very active and hardy. They are easy to care for and are good eaters.</span> <div class="bvseo-pubdate">Date published: 2011-04-18</div> <meta itemprop="datePublished" content="2011-04-18" /> </div> <div class="bvseo-review" itemprop="review" itemscope itemtype="http://schema.org/Review" data-reviewid="17978060"> <meta itemprop="itemReviewed" content="Buenos Aires Tetra" /> <span itemprop="reviewRating" itemscope itemtype="http://schema.org/Rating"> Rated <span itemprop="ratingValue">5</span> out of <span itemprop="bestRating">5</span> </span> by <span itemprop="author">Matt1557</span> from <span itemprop="name">Good, active fish</span> <span itemprop="description">I had 5 Bloodfin Tetras before introducing 3 Buenos Aires Tetras to the tank, and they get along very well. Both groups school together sometimes and never chase each other aggressively. The Buenos Aires' will often be the first to the surface to eat, which means that my Bloodfins sometimes won't get as much as food as they should get. The Buenos Aires' themselves are very active and I've seen them dart around the tank quite often. They eat quite a lot and seem to have no problems with eating flakes. So far mine have enjoyed the occasional bloodworm or two, but I'm planning on getting a wider variety of freeze-dried food for them to snack on. Overall, this is a very good fish that will be happy as long as you keep it in a school larger than 3.</span> <div class="bvseo-pubdate">Date published: 2011-01-21</div> <meta itemprop="datePublished" content="2011-01-21" /> </div> <div class="bvseo-review" itemprop="review" itemscope itemtype="http://schema.org/Review" data-reviewid="22357877"> <meta itemprop="itemReviewed" content="Buenos Aires Tetra" /> <span itemprop="reviewRating" itemscope itemtype="http://schema.org/Rating"> Rated <span itemprop="ratingValue">3</span> out of <span itemprop="bestRating">5</span> </span> by <span itemprop="author">TexasCatfish</span> from <span itemprop="name">Mixed thoughts on this fish.</span> <span itemprop="description">This review is hard to write because I enjoy watching these fish but they are very aggressive and eat live plants. They even manage to strip silk plants to pieces. They are VERY active and chase each other around and other fish. They are fin nippers and will go after anything that has long fins or is slow. Barbs seem to get along well with them and Platys and Corys but I would not go with much else. If you want a large mixed tank with lots of different types of fish, or a tank with live plants then stay away from this fish. They can and will eat just about anything. BUT, if you want a schooling fish and some bottom feeders only then these guys are a good choice. So it depends on what you want.</span> <div class="bvseo-pubdate">Date published: 2011-07-10</div> <meta itemprop="datePublished" content="2011-07-10" /> </div> </div> <script type="text/javascript"> if (document.getElementById('bvseo-reviewsSection')) { document.getElementById('bvseo-reviewsSection').style.display = 'none'; } </script> <!--end-reviews--> <!--begin-pagination--> <ul id="bvseo-paginationSection"> <li class="bvseo-paginationItem"><a class="bvseo-paginationLink" href="https://www.petsmart.ca/on/demandware.servlet/Sites-PetSmart_CA-Site/en_CA/Product-Show?pid=4032908&bvrrp=Main_Site-en_CA/reviews/product/2/15241.htm">Buenos Aires Tetra Reviews - page 2</a></li> </ul> <!--end-pagination--> <ul id="BVSEO_meta" style="display:none!important"> <li data-bvseo="bvDateModified">y_2019, m_11, d_12, h_19</li> <li data-bvseo="ps">bvseo_bulk, prod_bvrr, vn_bulk_3.0.1</li> <li data-bvseo="cp">cp_1, bvpage1</li> <li data-bvseo="co">co_hasreviews, tv_0, tr_17</li> <li data-bvseo="cf">loc_en_CA, sid_15241, prod, sort_[SortEntry(order=HELPFULNESS, direction=DESCENDING), SortEntry(order=POSITIVE_FEEDBACK, direction=DESCENDING), SortEntry(order=SUBMISSION_TIME, direction=DESCENDING)]</li> <li data-bvseo="diagnostics">clientName_petsmart-canada</li> </ul> <!--end-bvseo-reviews--> <ul id="BVSEOSDK_meta" style="display: none !important;"> <li data-bvseo="sdk">bvseo_sdk, dw_cartridge, 18.2.0, p_sdk_3.2.0</li> <li data-bvseo="sp_mt">CLOUD, getReviews, 114ms</li> <li data-bvseo="ct_st">reviews, product</li> </ul>
<ul id="BVSEOSDK_meta" style="display: none !important;"> <li data-bvseo="sdk">bvseo_sdk, dw_cartridge, 18.2.0, p_sdk_3.2.0</li> <li data-bvseo="sp_mt">CLOUD, getContent, 51ms</li> <li data-bvseo="ct_st">questions, product</li> <li data-bvseo="ms">bvseo-msg: Unsuccessful GET. status = 'ERROR', msg = 'Not Found.';</li> </ul>