Otocinclus
Details
https://www.petsmart.ca/fish/live-fish/goldfish-betta-and-more/otocinclus-4032049.html
Discounted Price

$ 4.24
Old Price

$ 4.99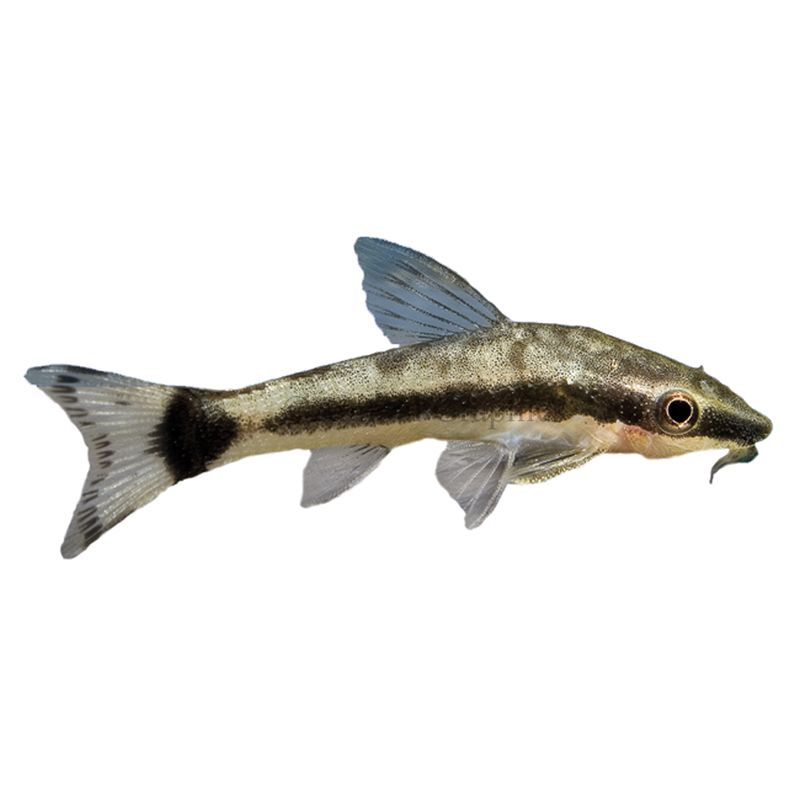 Variations
Please select a variation value to continue
This item is not available for in-store pickup. Check store availability.
product highlights
Diet: Algae Wafers, Fresh Vegetables
Maximum size: 2"
Water temperature: 72-79&deg F
Swimming level: Bottom
Experience level: Intermediate
Tank Setup: 10+ gallons, lightly planted
Note: Pet availability is seasonal. State and local regulations may vary. Pricing may vary by store location. PetSmart stores cannot match the price below for this pet. Ask a store associate for details.
Aptly named, algae eaters are often placed in large aquariums to help keep algae from overgrowing. These bottom-swimming fish feed on green algae and vegetable matter, moving along the surfaces of your aquarium scraping green algae with their sucker mouths. They also eat all kinds of commercial flake and pellet foods, but must get sufficient algae and vegetable matter, such as fresh zucchini, romaine lettuce, spinach or spirulina pellets.
You will see your algae eater swimming at the bottom of your aquarium. They will also hang from plants and the aquarium walls, using their sucker mouths for attachment. To create a beautiful aquarium environment, be sure to add some middle and top swimmers as well. Ask a PetSmart associate to help you choose.
Things to remember
Frequent feedings
For optimum health, feed your algae eaters as much food as they will consume in 1-3 minutes, twice a day. You can alternate between regular staple diet feedings and 2-4 meals per week of a vegetable treat or specialty food. Remove uneaten fresh vegetables after four hours.
Adding fish
Whether you're just starting your aquarium or introducing new fish into your tank, don't forget to add only 1-3 at a time.
Unique gill opening
Algae eaters have a special opening on their gills so they can breathe without loosening their grip on a rock or other surface.
Aquarium
Minimum aquarium size should be 10 gallons or larger. A good rule of thumb is one gallon of water for every one inch of full-grown fish.
Décor
Decorate their aquarium with hiding places such as roots, driftwood and rockwork. Also include plants to provide grazing surfaces.
Fish compatibility
Algae eaters should not be kept by beginners or in a community aquarium with delicate fish. As adults, they can be aggressive to other tank mates and should be housed with large, tough fish or as a single species in the aquarium.
Vet Assured™ Promise
All pets purchased at PetSmart are raised under our exclusive Vet Assured program and come with a 14-day satisfaction guarantee. Vet Assured is a program designed by PetSmart veterinarians to improve the health and well-being of our pets. The program sets standards for the care of our pets by our live animal partners and store associates and establishes strict standards for the monitoring and prevention of common illnesses found in pets. PetSmart makes a significant investment in the care of our pets and it is apparent in the quality and comfort of the pets in our stores. However, if your pet becomes ill during this initial 14-day period, or if you're not satisfied with your pet for any reason, PetSmart will gladly replace the pet or refund the purchase price. Please keep your sales receipt and return the pet to the store where it was purchased if needed.
<!--begin-bvseo-reviews--> <!--begin-reviews--> <div id="bvseo-reviewsSection"> <div class="bvseo-review" itemprop="review" itemscope itemtype="http://schema.org/Review" data-reviewid="55291289"> <meta itemprop="itemReviewed" content="Otocinclus" /> <span itemprop="reviewRating" itemscope itemtype="http://schema.org/Rating"> Rated <span itemprop="ratingValue">5</span> out of <span itemprop="bestRating">5</span> </span> by <span itemprop="author">PetNerd</span> from <span itemprop="name">AWSOME!!!!!!!!!!!!!!!!!!!!!!!!!</span> <span itemprop="description">I got one of these yesterday since my filter stopped working (don't worry, my fish are fine), and after making sure the water temperature was the same in the tank and bag, I let him into the tank. He stuck to the side of the aquarium and started eating. I saw him wiggling, and moving up and down. Wherever his mouth touches the tank, the algae is gone from that part of it! He's just a baby, but overnight he ate 1/8 of the existing algae in the tank! I'm getting another soon! My Betta was a little curious, but Bubble isn't very aggressive (for whatever reason), and just swam after looking at him (Stripe) around 3 or 4 times. Petsmart, Keep on carrying these guys! I'd totally recommend these little guys to anyone!</span> <div class="bvseo-pubdate">Date published: 2014-03-09</div> <meta itemprop="datePublished" content="2014-03-09" /> </div> <div class="bvseo-review" itemprop="review" itemscope itemtype="http://schema.org/Review" data-reviewid="35719171"> <meta itemprop="itemReviewed" content="Otocinclus" /> <span itemprop="reviewRating" itemscope itemtype="http://schema.org/Rating"> Rated <span itemprop="ratingValue">4</span> out of <span itemprop="bestRating">5</span> </span> by <span itemprop="author">glass</span> from <span itemprop="name">Great Fish!</span> <span itemprop="description">I love this fish! Hes small for an algae eater so, its good to buy two.... It keeps the algae mediocore if you only have 1. they like sucking on the caves, so make sure you have some!</span> <div class="bvseo-pubdate">Date published: 2012-10-14</div> <meta itemprop="datePublished" content="2012-10-14" /> </div> <div class="bvseo-review" itemprop="review" itemscope itemtype="http://schema.org/Review" data-reviewid="39137949"> <meta itemprop="itemReviewed" content="Otocinclus" /> <span itemprop="reviewRating" itemscope itemtype="http://schema.org/Rating"> Rated <span itemprop="ratingValue">5</span> out of <span itemprop="bestRating">5</span> </span> by <span itemprop="author">Hinda</span> from <span itemprop="name">Good little fish</span> <span itemprop="description">This fish is no trouble, easy to care for, and swims back and forth in the tank so fast it's amazing. He likes to rest on the glass of the tank and behind the air tubes that operate the undergravel filter, so sometimes it's not easy to find him. We got him about two weeks ago, and he has grown already. I named him &quot;Otto&quot;..</span> <div class="bvseo-pubdate">Date published: 2013-02-02</div> <meta itemprop="datePublished" content="2013-02-02" /> </div> <div class="bvseo-review" itemprop="review" itemscope itemtype="http://schema.org/Review" data-reviewid="31115829"> <meta itemprop="itemReviewed" content="Otocinclus" /> <span itemprop="reviewRating" itemscope itemtype="http://schema.org/Rating"> Rated <span itemprop="ratingValue">5</span> out of <span itemprop="bestRating">5</span> </span> by <span itemprop="author">tlucky8</span> from <span itemprop="name">big time algae busters!</span> <span itemprop="description">Started to get an algae infestation and was looking for a natural solution. These guys were the talk around the internet, so I gave them a shot. The reviews said to make sure your algae was sufficient to sustain these fish. Well, I let my algae develop until it became too much to take. Bought 3 of these little guys for a 20 gallon tank, and within 3-4 days, I could finally differentiate between my glowlights and neons (it was that bad). Highly recommend for algae control, the natural way. Just wish I took before and after pics.</span> <div class="bvseo-pubdate">Date published: 2012-05-06</div> <meta itemprop="datePublished" content="2012-05-06" /> </div> <div class="bvseo-review" itemprop="review" itemscope itemtype="http://schema.org/Review" data-reviewid="22357864"> <meta itemprop="itemReviewed" content="Otocinclus" /> <span itemprop="reviewRating" itemscope itemtype="http://schema.org/Rating"> Rated <span itemprop="ratingValue">5</span> out of <span itemprop="bestRating">5</span> </span> by <span itemprop="author">TexasCatfish</span> from <span itemprop="name">Good but very fragile</span> <span itemprop="description">What I found is they love neutral water to slightly acidic. So 6.5 - 7 pH at the max. Most city water tends to be 7.5 - 8.5 which is way to basic for them. I got RO water and add some stuff to make the pH stable. Once I did that, they lived. Go with Bristlenose Pleco's if you want a more hardy fish, but Oto's die pretty easy. Make sure you have a well established tank with algae in it too. I have never seen one of my Otocinclus go after an algae wafer or anything. Most of these fish are live caught in nature and then shipped, so expect sadly a high death rate. But once you have a good bit of algae in your tank and it is stable these guys are fun to put in. Just get 3-5 or so all at once.</span> <div class="bvseo-pubdate">Date published: 2011-07-10</div> <meta itemprop="datePublished" content="2011-07-10" /> </div> <div class="bvseo-review" itemprop="review" itemscope itemtype="http://schema.org/Review" data-reviewid="101010818"> <meta itemprop="itemReviewed" content="Otocinclus" /> <span itemprop="reviewRating" itemscope itemtype="http://schema.org/Rating"> Rated <span itemprop="ratingValue">5</span> out of <span itemprop="bestRating">5</span> </span> by <span itemprop="author">Poisson</span> from <span itemprop="name">Excellent Cleaner</span> <span itemprop="description">My one of this fish, Stripe, cleans ALL DAY LONG! my little brother says that this is one of his favorite fish we have (besides Larry the loach and all of the black molly babies). I DEFINITELY recommend this fish!</span> <div class="bvseo-pubdate">Date published: 2016-01-29</div> <meta itemprop="datePublished" content="2016-01-29" /> </div> <div class="bvseo-review" itemprop="review" itemscope itemtype="http://schema.org/Review" data-reviewid="38078643"> <meta itemprop="itemReviewed" content="Otocinclus" /> <span itemprop="reviewRating" itemscope itemtype="http://schema.org/Rating"> Rated <span itemprop="ratingValue">5</span> out of <span itemprop="bestRating">5</span> </span> by <span itemprop="author">Mackenzie276</span> from <span itemprop="name">Best Investment Ever!</span> <span itemprop="description">My tank was incredibly filthy, but I didn't want to do a full tank cleaning on 10g just because of algae, so I did some research and found the Otos, perfect for my little tank with my Betta, Pigg. I went out and bought two of them, Penny and Cabbage, and it's been three months. They're done growing at 2 inches long and keep my tank SPOTLESS. They absolutely LOVE boiled cucumber, but won't eat those algae wafers. I read that they liked to be in groups of three or more, so yesterday, since I have sufficient room, I went out and got a third little guy- Simon! (I also purchased Estabon, a Golden Mystery Snail). Thanks to these guys, my worries that my filter was broken is over! My Betta ignores them and they ignore him, everything here is peaceful!</span> <div class="bvseo-pubdate">Date published: 2012-12-29</div> <meta itemprop="datePublished" content="2012-12-29" /> </div> <div class="bvseo-review" itemprop="review" itemscope itemtype="http://schema.org/Review" data-reviewid="33352544"> <meta itemprop="itemReviewed" content="Otocinclus" /> <span itemprop="reviewRating" itemscope itemtype="http://schema.org/Rating"> Rated <span itemprop="ratingValue">5</span> out of <span itemprop="bestRating">5</span> </span> by <span itemprop="author">toban</span> from <span itemprop="name">Easy going, peaceful fish</span> <span itemprop="description">I have two otto's in my 29 gallon tank along with neon tetras and 3 cory catfish. Otto's are peaceful and they love hanging out with my cory's underneath the driftwood. I've had both my otto's for 3 years now. I feed them algae wafters and shrimp pellets. During the day they mainly hideout and seem more active at night. Tank has no algae.</span> <div class="bvseo-pubdate">Date published: 2012-07-22</div> <meta itemprop="datePublished" content="2012-07-22" /> </div> </div> <script type="text/javascript"> if (document.getElementById('bvseo-reviewsSection')) { document.getElementById('bvseo-reviewsSection').style.display = 'none'; } </script> <!--end-reviews--> <!--begin-pagination--> <ul id="bvseo-paginationSection"> <li class="bvseo-paginationItem"><a class="bvseo-paginationLink" href="https://www.petsmart.ca/on/demandware.store/Sites-PetSmart_CA-Site/en_CA/Product-Show?pid=4032049&bvrrp=Main_Site-en_CA/reviews/product/2/15277.htm">Otocinclus Reviews - page 2</a></li> </ul> <!--end-pagination--> <ul id="BVSEO_meta" style="display:none!important"> <li data-bvseo="bvDateModified">y_2019, m_12, d_7, h_15</li> <li data-bvseo="ps">bvseo_bulk, prod_bvrr, vn_bulk_3.0.3</li> <li data-bvseo="cp">cp_1, bvpage1</li> <li data-bvseo="co">co_hasreviews, tv_0, tr_123</li> <li data-bvseo="cf">loc_en_CA, sid_15277, prod, sort_[SortEntry(order=HELPFULNESS, direction=DESCENDING), SortEntry(order=POSITIVE_FEEDBACK, direction=DESCENDING), SortEntry(order=SUBMISSION_TIME, direction=DESCENDING)]</li> <li data-bvseo="diagnostics">clientName_petsmart-canada</li> </ul> <!--end-bvseo-reviews--> <ul id="BVSEOSDK_meta" style="display: none !important;"> <li data-bvseo="sdk">bvseo_sdk, dw_cartridge, 18.2.0, p_sdk_3.2.0</li> <li data-bvseo="sp_mt">CLOUD, getReviews, 104ms</li> <li data-bvseo="ct_st">reviews, product</li> </ul>
<ul id="BVSEOSDK_meta" style="display: none !important;"> <li data-bvseo="sdk">bvseo_sdk, dw_cartridge, 18.2.0, p_sdk_3.2.0</li> <li data-bvseo="sp_mt">CLOUD, getContent, 95ms</li> <li data-bvseo="ct_st">questions, product</li> <li data-bvseo="ms">bvseo-msg: Unsuccessful GET. status = 'ERROR', msg = 'Not Found.';</li> </ul>