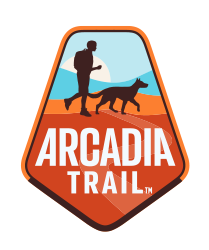 Arcadia Trail - Share the adventure
Arcadia Trail Dog Travel Gear
Gear up and go with Arcadia Trail outdoor gear, pet travel supplies, and hiking and camping accessories. With innovative products like cooling dog vests, hot-weather boots, and dog raincoats, Arcadia Trail dog travel gear makes traveling with your furry friend in any weather safe and fun.
Beat the heat with pet shade tents, cooling dog vests, and boots for the summer heat. Stay safe around water with dog life jackets and floatation coats with handles. Our safety features include reflective and high visibility materials to make your dog stand out both day and night. Specially designed for outdoor use, our harnesses, leashes, and collars include waterproof and odor-free options to ensure the smell of the great outdoors stays there.
Provide paw protection for your pup with adjustable dog shoes with non-skid bottoms to prevent burns on hot pavement and prevent slipping during hikes. Walk, run or hike hands-free with leashes secured to a specially designed dog walking belt. Choose a lightweight harness or collar for your pup, with reflective striping for walking or running at night. Stay hydrated with travel water containers, including squeezable water bottles and collapsible bowls.
Our hiking harnesses include expandable backpacks and removable saddlebags to carry water, food, and other supplies for your hike or camping trip. When you get back to camp, use the Arcadia Trail dog tether system tie-out to keep them safe and secured. Our roll-up sleeping pad keeps them comfortable at night or during a break on the trail.
Find lightweight travel harnesses, durable collars, backpacks, raincoats, and life jackets, along with protective dog booties, hands-free leashes, collapsible food and water bowls, travel beds and sleeping pads, dog shade tents, and everything you need for a road trip, hiking or camping with your best friend! Shop now for Arcadia Trail dog travel and outdoor accessories at PetSmart.